Mazda CX-5 Versus Honda CR-V Buyers Guide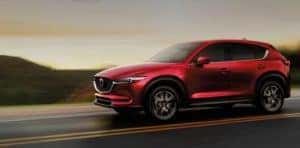 If you're on the hunt for a reliable, innovative SUV, you may be wondering — which is better, the Honda CR-V or Mazda CX-5? Both seem to have similar features, and they tied as the best compact SUVs in 2019. However, they each have distinguishing qualities that allow them to complement various lifestyles and families.
2019 Honda CR-V Vs. 2019 Mazda CX-5
Price
The original prices for both compact SUVs are similar: $24,350 for the base 2019 Mazda CX-5 and $24,450 for the base 2019 Honda CR-V. The Honda CR-V base model is $100 more and the Mazda CX-5 comes with better safety features including low-speed automatic braking, traffic alerts, and blind spot monitoring. To add these to your Honda, you'll have to spend a significant amount of money. It's also cheaper to add all-wheel drive to your CX-5, so the CX-5 wins on price.
Safety
While both models have adaptive cruise control, automatic emergency braking, collision warnings, and lane warnings, the 2019 CX-5 has additional features like low-speed automatic braking, traffic alerts, and blind spot monitoring. In addition, the National Highway Traffic Safety Administration gave the Mazda CX-5 a five-star rating.
Cargo Space
When comparing cargo sizes, the Honda CR-V wins. Behind the rear seats, the 2019 Honda CR-V has 39.2 cubic feet of space, and when the seats are folded, that becomes 75.8 cubic feet. In contrast, the 2019 CX-5 has 30.9 cubic feet and only 59.6 cubic feet when the seats are folded. If cargo space is what you need, but you'd like to buy a Mazda, you should consider the Mazda CX-9, which has 71.2 cubic feet of cargo space with the seats folded down.
Design and Comfort
In both of these top-ranking compact SUVs, you'll find beautiful interior designs, high-quality materials, and protective plastic. The Honda CR-V vs. Mazda CX-5's interior are equally luxurious.
Each model can come with leather seats, heated steering wheels and front seats as well as power-adjusted seats. However, because the CR-V has a little more space in the back seat, it ranks above the CX-5 in comfort.
The Mazda CX-5 exterior is sleek and stylish with handling that resembles a luxury, sporty car versus a typical SUV. Let's face it, the Honda CR-V drives a little more like a minivan (comfortable, but not at all sporty). By comparison, the Mazda CX-5 drives similarly to the much-smaller Mazda3. That's why U.S. News & World Report mentions the Mazda CX-5 as one of the most athletic crossover SUVs in its class.
Technology
For technology features, the CX-5 outperforms the CR-V with its HD Radio and Bluetooth, multiple USB ports, voice command system, four speakers, and 7-inch touch screen in the base model. Also with additional costs, you can add more USB ports, navigation, Apple CarPlay, Android Auto, and a Bose audio system with 10 speakers.
The 2019 CR-V does come with Bluetooth and four speakers as well as one USB port and a 5-inch display screen. You can pay extra to get additional USB ports, voice recognition, a larger touch screen, navigation, HD Radio, Android Auto, and Apple CarPlay.
Fuel and Acceleration
Both models provide excellent gas mileage, which helped them rank at the top of 2019 compact SUVs. When compared, the Honda CR-V performs slightly better with fuel economy. Driving in the city, a CR-V owner will get 26 mpg, and receive 32 mpg on the highway. This decreases to 25 and 31 mpg for all-wheel CR-V drivers. On the other hand, the Mazda CX-5 gets 25 mpg on a normal drive and 31 mpg on the highway. For all-wheel drive CX-5 vehicles, gas mileage goes to 24 and 30 mpg.
Even though the 2019 CX-5 and Honda CR-V each have four-cylinder engines, the CX-5 pulls ahead (literally!) with its new turbocharged four cylinder engine. This upgraded engine yields 227 horsepower with regular gas and 250 with premium and 310 lb-ft of torque. Meanwhile CR-V's turbocharged engine only offers 190 horsepower. This turbocharged engine option makes the CX-5 one of the more powerful crossover SUVs on the market.
Mazda CX-5 vs. Honda CR-V vs. Toyota RAV4
When comparing a Honda CR-V vs. a Mazda CX-5, many often look at the Toyota RAV4 vehicles, because they ranked #3 in best compact SUVs of 2019. With five seats and 203 horsepower, the Toyota RAV4 provides a comfortable and powerful ride. Its good gas mileage, advanced reliability rating, and spacious interior make it a top choice to buy for teens. However, this compact SUV starts at a higher price and is known to have a louder engine.
Find the Perfect Compact SUV for Your Lifestyle
Depending on your lifestyle and family's needs, you'll want to know the similarities and individual advantages of these compact SUVs. If you're looking for a reliable, comfortable, safe, and fuel efficient SUV with plenty of cargo space, the 2019 Honda CR-V is the right fit. If a lower price, sporty handling, advanced technology features, higher safety ratings, and powerful acceleration are more important to you, then the 2019 Mazda CX-5 will complement your lifestyle. Lastly, if efficient gas mileage, predicted reliability rating, and roomy interior are what you're looking for, consider the Toyota RAV4 as your top choice.
Test Drive the Mazda CX-5 for Yourself
If you'd like to check out the Mazda CX-5 for yourself or have questions, visit us or contact us at Whitten Brothers Mazda in Richmond, VA. Want to explore other SUV or hatchback options? Take a look at more vehicle options at Whitten Brothers Chrysler Dodge Jeep Ram. Whichever compact car ends up being the right fit, find an unmatched price at Whitten Brothers. We offer quality new vehicles and pre-owned vehicles as well as financing and servicing in Richmond, Ashland, and the surrounding Central Virginia region.