Simple auto repair goes a long way in keeping your car running smoothly over the years. The automotive professionals at the Whitten Brothers Mazda dealership in Richmond diagnose and repair any service problems you may encounter along the road. To prevent common maintenance problems, we have put together a list of steps to ensure that your vehicle remains in like-new condition, no matter how many miles you have driven.  
Frequent inspections and routine tune-ups ensure your vehicle is safe on the road. The experts at Whitten Mazda can answer your automotive questions and repair any issue your Mazda experiences. Simply call or bring your vehicle by the service department located on Johnston Willis Drive in Richmond, VA to have your car issues quickly resolved.  Our auto repair experts will run complete diagnostic tests to find any service issues and perform any and all auto repairs to get you back on the road.
Our service professionals provide you with excellent customer service that is backed by high quality auto parts. We offer a Mopar Certified Express Lane, Tire Center, Rental Department, Shuttle Service, and Full Detail Department to meet any needs you may have.
Whitten Brothers Mazda: A History of Service Excellence
Whitten Service Center has 34 certified technicians with vast experience working on a variety of auto repair issues. Our Detail Department has over 65 years of experience. We have multiple service consultants who have been with us for over 20 years, and are proud to have over 150 combined years of experience in our lanes.  
You have many options when deciding where to service your Mazda. What makes Whitten Brothers stand out from the rest? Our experienced and friendly service staff will provide you with comprehensive maintenance for your vehicle that you can trust and perform repairs at competitive prices. 
If you have questions about the auto services we provide at any of our Virginia dealerships, check out the list below. These common repairs performed at Whitten Mazda Service Center help you keep your car, truck, or SUV in mint condition.
Oil Change 
The most regularly performed maintenance service, oil changes are necessary at different frequencies for individual vehicles. This is based off the make and mileage of your car. New vehicles typically require oil changes less frequently, and the suggested service period ranges from 3,000-10,000 miles. Taking your car in for routine oil changes is an easy and inexpensive way to maintain the value of your vehicle.
How exactly do oil changes help your car? Clean oil lubricates the vehicle's engine and prevents friction from occurring between engine components. Without the recommended level of oil in your car, parts begin to rub together and wear down over time. Replacing these engine parts gets expensive fast. Bring your car in for routine oil changes to maintain the engine components and prevent costly repairs. If you do not know how often you should be bringing your vehicle in for oil changes, refer to the owner's manual or contact the service professionals at Whitten Mazda. 
Air Filter Replacement & Routine Tune-Ups
Air filters are often forgotten or ignored when it comes to auto repairs. Most drivers do not understand what these filters do and think that replacing filters is more a suggestion than a necessity when bringing their car in for maintenance. But replacing the air filter in your car routinely can help your car run smoother. The air filter cuts down harmful emissions produced by the engine, while also preventing dirt and other fragments from getting in the engine. Clean engine filters maintain a higher fuel economy in your vehicle, keeping the internal components working smoothly reducing friction from buildup.
Routine tune-ups also help with built-up engine dirt. Our service technicians clean internal components and removes grime that deteriorates engine components over time.
Wiper Blade Replacement           
You often do not even think about changing the wiper blades on your car until there is a heavy downpour and you realize that the windshield is streaked and blurry. Before severe weather strikes and you are stuck in a dangerous driving situation, replace the wiper blades proactively. Although it seems like an unimportant maintenance repair, new wiper blades keep your windshield clear and help prevent potential accidents. Ask a qualified technician to check the wear and tear on your windshield wiper blades at your next tune-up to make sure that they are still in good condition.
Alignment
When your steering wheel pulls to one side or you feel vibrations coming from the steering wheel when you drive, it may be time to test the vehicle's alignment. The proper alignment helps retain high safety standards in your car. Hitting curbs and large potholes causes the alignment to shift. Even typical wear over time can cause your vehicle to require readjustment.
Proper vehicle alignment saves you money in repairs and also increases fuel economy. Ask the service professionals at Whitten Mazda for a quick alignment test next time you come in for an oil change if you are unsure about your car's alignment. Correct alignment helps your vehicle drive smoother while saving you money on potential repairs and frequent refueling.
Brake Fluid Exchange 
Over time, your car's brake system absorbs water and air, causing the brakes to be less effective. Clean brake fluid increases stopping distance and extends the life of the braking system in your car. Plus, a brake fluid exchange prevents corrosion in the brake lines caused by dirty fluid.
How often this service needs to be performed depends on the make and model of your vehicle. Some car manufacturers suggest a complete brake flush after only 20,000 miles, while others only need the service performed every 100,000 miles. Check your owner's manual to find out when a brake fluid exchange is suggested in your vehicle.
Coolant Flush & Replacement 
Your car's environment and temperature range constantly changes. Prevent the engine from overheating or freezing with a coolant flush and replacement. Coolant maintains a constant temperature zone in your car. Like brake fluid, coolant absorbs dirt and other debris over time, impairing the fluid's ability to maintain a constant temperature in the engine.
Find out when your vehicle requires a coolant flush and replacement by referring to the owner's manual, or speak to a qualified expert at Whitten Mazda about coolant maintenance for your vehicle.
Power Steering Fluid Exchange
A power steering fluid exchange removes buildup from the steering gears and allows easier maneuverability with the vehicle's steering wheel. As your car's power steering system starts to deteriorate, dirt and metal shavings contaminate the power steering fluid, causing the entire system to fail.
Change this fluid to prevent power steering parts from breaking down over time and increase the system's lubrication to make your driving experience seamless. 
Transmission Fluid Exchange
When shifting gears in your car, whether automatically or manually, transmission fluid makes the transition smooth and prevents damage to the gear teeth. Clean transmission fluid extends the life the entire transmission over time. Replacing transmission fluid reduces the buildup of sludge and debris inside the transmission, preventing your vehicle from requiring costly repairs. Ask the service professionals at Whitten Mazda or refer to the owner's manual to see how often the transmission fluid should be changed for your vehicle. 
Fuel Induction Service
The fuel used in your car is not always uncontaminated. Over time, the impurities found in fuel create deposits in the vehicle's engine, reducing the efficiency of the system. Performing routine fuel induction service on your vehicle maintains fuel economy and reduces harmful emissions. This service also improves throttle response. If your car shakes while idling or the fuel efficiency drops, bring your vehicle in to Whitten Mazda for a fuel induction service.
Tire Replacement & Rotation
As the only connections between the road and your car, tires are very important to maintaining a safe car. When the treads wear down or a leak develops, that connection is compromised. Having unsafe tires makes the entire car dangerous to drive, especially in severe weather conditions.
Have your tires rotated and replace them periodically when suggested by your service professional to prevent dangerous blowouts. Keeping the connection between your car and the road strong is an important part of maintaining your vehicle.
Schedule Your Mazda Auto Repair in Richmond, VA Today
Along with these common repairs, the service team at Whitten Mazda helps fix countless other automotive needs, including frame and body work. No matter what repairs your car requires, our experienced technicians provide comprehensive auto repairs at competitive prices. Check the charts below to see how our prices stack up to other local and independent auto shops.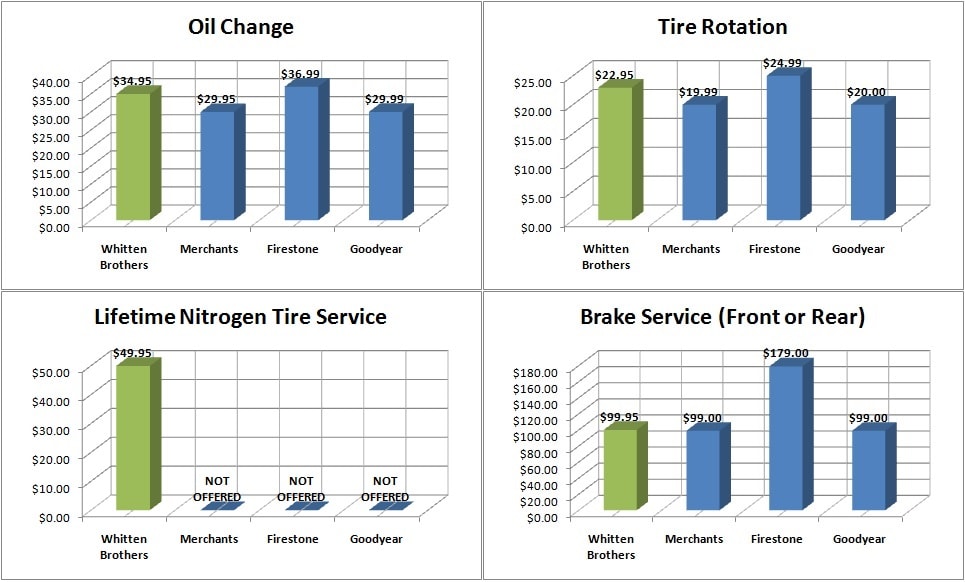 * Oil change prices are based on a 5 quart standard oil and filter change.
* Find out more about our Lifetime Nitrogen Tire Service by watching this video: